Full Text
We read with interest the recent systematic review entitled "The addition of blood flow restriction to resistance exercise in individuals with knee pain: a systematic review and meta-analysis" by Cuyul-Vásquez et al.1
The use of blood flow restriction (BFR) by musculoskeletal rehabilitation and sports medicine professionals is increasingly popular which makes this systematic review an important addition. Although the authors reported that they conducted the review following recommendations in the Cochrane Handbook,2 there are some important departures, which have likely introduced biases and inconsistencies we would like to draw attention to.
Our first concern is how the data for pain reduction (Fig. 3A in Cuyul-Vásquez et al.1) were extracted and pooled. Their results suggest no difference between interventions (SMD = −0.37, 95% CI: −0.93, 0.19) at short-term follow-up.
On close inspection of the raw data used to generate the described effect sizes, we suspect a few critical errors may have inadvertently crept into the final analyses which have influenced the ultimate outcomes as calculated and reported. Firstly, the authors appear to have not imported and pooled homogenous outcome measures, but instead different methods of calculating these measures. Specifically, it is hard to justify pooling "mean ± standard deviation (SD)" values for Numerical Pain Rating Scale (NPRS), Visual Analogue Scale (VAS), and Western Ontario and McMaster Universities Osteoarthritis Index pain subscale (WOMACpain),3–5 along with "mean difference ± SD" values for Knee injury and Osteoarthritis Outcome Score pain subscale (KOOSpain),6 and "percentage (%) mean difference ± SD" values for KOOSpain,7 notwithstanding the use of standardized mean differences (SMD). Furthermore, it would appear that the direction of the effect estimate has been reversed in one study.7 The net effect of this is that the effect estimate in the study of Segal et al.7 is overestimated 4.5 times, and the overall effect size has been extremely (37 times) overestimated based on our calculations (SMD = −0.010, 95% CI: −0.267, 0.247) as depicted in Fig. 1A. In addition, they excluded from the meta-analyses a study8 that reported pain outcomes (KOOSpain) that appears to meet their inclusion criteria for quantitative synthesis (SMD = −0.058, 95% CI: −0.311, 0.236 — Fig. 1B) given the clinical heterogeneity of the studies pooled in this review.9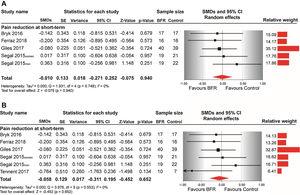 Figure 1.
Pain reduction pooled results at short-term follow-up. (A) Re-calculation of pooled effect size of included studies in the systematic review. (B) Pooled effect size with the additional study8 that was excluded from quantitative synthesis.
(0.53MB).
Another concern is how the authors' reported and selected data throughout the review. Specifically: (a) the corresponding sample sizes for the included studies deviate from the numbers reported in original publications, for example in Giles et al.,5 the sample of the strengthening group was n = 39 and not 30; (b) the inclusion of a single-session study by Korakakis et al.,10 that does not meet the inclusion criteria (i.e. treatment duration between two weeks to three months); (c) the exclusion from the knee function meta-analysis of studies reporting relevant outcome measures, such as the Kujala patellofemoral score5 and KOOS.8
The pooling of heterogeneous outcome measures, the discrepancies in eligible studies, and the overestimation of the pooled effect estimate suggest that these recommendations on the effectiveness of BFR should be interpreted with some caution until the authors provide clarification. Anecdotally, BFR training is very common,11,12 however is also associated with potentially serious side effects13,14 and decisions on its use need to be based upon unbiased summaries of the available evidence.
Conflicts of interest
The authors declare no conflicts of interest.
Copyright © 2020. Associação Brasileira de Pesquisa e Pós-Graduação em Fisioterapia